Ramon Pujol is a professional audio engineer, music producer and composer with a wide experience in editing, recording and mixing services as well as in sound post production. He has participated in the production of an extensive list of CDs, films, TV documentaries and videogames. He is also an entrepreneur; in 2008 he created Casafont Recording Studio in Barcelona, and in 2013, he started Quid Pro Studio, a sound postproduction suite in Manhattan, New York. Nowadays, he alternates his residence between New York and Barcelona, getting the best of the two worlds.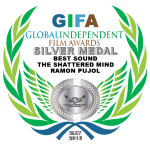 We really enjoyed producing our last album with Ramon. He is the most patient person we've ever met. We are very happy with the result of his work, it rocks!!!
Ramon was really friendly and professional to work with. Besides, his enthusiasm is contagious, I love that about him. We'd be more than happy to work with Ramon again and would heartily reccomend him to anyone looking for music producing services.
Ramon has brought a new creative approach to our songs. With him, we have found other ways to produce and improve our album. Besides, we never have to worry about sound quality!!
Ramon not only does great recordings, he also takes them to the next level by editing and mixing them in a way that is uniquely relevant for us. We always have the flexibility to modify whatever we need on the fly.
We like working with Ramon because he is always ready to modify any detaill of a mix that we need. For our projects this is a key factor, because we are always results- oriented. Quality with Ramon is guaranteed.
I have worked with Ramon on several games, some of which were quite technically challenging. He always does a fantastic job. He really cares and he's always willing to help. The perfect professional.
It is great to have Ramon on board. He completely understands our music. He is a skilled sound engineer who effortlessly made all the recording sessions we run smoothly.
It was great to work with Ramon, my experience was professional and enjoyable, I would highly recommend him to all who require voice over recording.